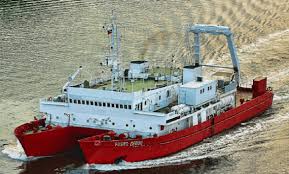 According to Australia's Joint Agency Coordinating Centre, which is leading the search, the bathymetric survey will provide a map of the underwater search zone, charting the contours, depths and composition of the sea floor in water depths up to 6,000 metres (3.7 miles).

The M.V. Fugro Equator is operated by Fugro Survey Pte Ltd. Its specially designed hull, diesel electric drive and rudder propellers, maximises fuel efficiency, navigational control and station keeping capabilities. Permanently installed equipment includes the latest in digital seismic, seabed and sub seabed mapping systems. Acoustic positioning is provided by a through hull USBL system. Surface positioning is Fugro Starfix high precision, GNSS. All acquisition, navigation, processing, charting and reporting systems are networked and integrated through industrial grade servers.
The vessel can carry out a full range of offshore survey services from simultaneous analogue/digital site surveys through to route surveys. In addition, a Fugro owned AUV system can easily be mobilised on the vessel without affecting other survey capabilities. ROV Inspection and more complex Geotechnical spreads can be mobilised as required.
More than three months have passed since the Malaysia Airlines Boeing 777 disappeared en route from Kuala Lumpur to Beijing with 239 people on board.