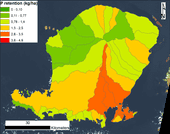 Information about forest type and biomass has been combined with forest management plans, as well as market processes and revenues to allow forest management authorities, to assess which areas can provide the highest profit if logged, while maintaining a healthy forest.
Information on land cover, market values and forest management was used as input to a managed timber production model and applied to the Huong Son forest concession. The left image displays the total net present value (TNPV) of the forecasted timber extraction until 2045 (based on average values); the darker the area, the greater the value. The image on the right image displays the total biomass foreseen to be extracted by the forest operations within each parcel; the darker green the more biomass. Numbers correspond to the parcels listed in the forest management plan of the Huong Son Company.
Under the Space for Ecosystems project, the European Space Agency (ESA) is working with international partners to exploit Earth observation satellites as an information source for many types of ecosystem service assessments. The Sentinel family of satellites being developed for Europe's Copernicus programme is set to provide even more data for ecosystem service assessment. The first of the fleet, Sentinel-1A, was launched in April, and carries an advanced radar that can assist in mapping changes in land cover, among many other applications.
Source: ESA