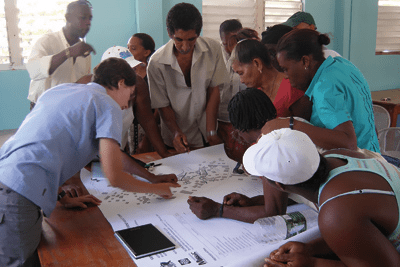 In Jakarta, more than 500 community members have been trained to collect data on thousands of hospitals, schools, private buildings, and critical infrastructure. In Sri Lanka, government and academic volunteers mapped over 30,000 buildings and 450 km of roadways using a collaborative online resource called OpenStreetMaps.
These are just a few of the projects that have been catalyzed by the Open Data for Resilience Initiative (OpenDRI), developed by the World Bank's Global Facility for Disaster Reduction and Recovery (GFDRR). Launched in 2011, OpenDRI is active in more than 20 countries today, mapping tens of thousands of buildings and urban infrastructure, providing more than 1,000 geospatial datasets to the public, and developing innovative application tools.
To expand this work, the World Bank Group has launched the OpenDRI Field Guide as a showcase of successful projects and a practical guide for governments and other organizations to shape their own open data programs.
"Economic losses from natural disasters have risen from $50 billion each year in the 1980s to just under $200 billion each year in the last decade; about three-quarters of those losses are a result of extreme weather," said Rachel Kyte, World Bank Group vice president and special envoy for climate change, who launched the guide at a Climate Data Initiative event in Washington. "This field guide will enable our many partners to better incorporate the values of the open data community into their efforts to build climate and disaster resilience."
The field guide walks readers through the steps to build open data programs based on the OpenDRI methodology. One of the first steps is data collation. Relevant datasets are often locked because of proprietary arrangements or fragmented in government bureaucracies. The field guide explores tools and methods to enable the participatory mapping projects that can fill in gaps and keep existing data relevant as cities rapidly expand.
GeoNode: Mapping Disaster Damage for Faster Recovery
One example is GeoNode, a locally controlled and open source cataloguing tool that helps manage and visualize geospatial data. The tool, already in use in two dozen countries, can be modified and easily be integrated into existing platforms, giving communities greater control over mapping information.
GeoNode was used extensively after Typhoon Yolanda (Haiyan) swept the Philippines with 300 km/hour winds and a storm surge of over six meters last fall. The storm displaced nearly 11 million people and killed more than 6,000.
An event-specific GeoNode project was created immediately and ultimately collected more than 72 layers of geospatial data, from damage assessments to situation reports. The data and quick analysis capability contributed to recovery efforts and is still operating in response mode at Yolandadata.org.
InaSAFE: Targeting Risk Reduction
A sister project, InaSAFE, is an open, easy-to-use tool for creating impact assessments for targeted risk reduction. The assessments are based on how an impact layer – such as a tsunami, flood, or earthquake – affects exposure data, such as population or buildings.
With InaSAFE, users can generate maps and statistical information that can be easily disseminated and even fed back into projects like GeoNode for simple, open source sharing.
The initiative, developed in collaboration with AusAID and the Government of Indonesia, was put to the test in the 2012 flood season in Jakarta, and its successes provoked a rapid national rollout and widespread interest from the international community.
Open Cities: Improving Urban Planning & Resilience
The Open Cities project, another program operating under the OpenDRI platform, aims to catalyze the creation, management and use of open data to produce innovative solutions for urban planning and resilience challenges across South Asia.
In 2013, Kathmandu was chosen as a pilot city, in part because the population faces the highest mortality threat from earthquakes in the world. Under the project, teams from the World Bank assembled partners and community mobilizers to help execute the largest regional community mapping project to date. The project surveyed more than 2,200 schools and 350 health facilities, along with road networks, points of interest, and digitized building footprints – representing nearly 340,000 individual data nodes.
Fostering a Spirit of Innovation & Collaboration
These projects are just a few of the tools highlighted by the OpenDRI Field Guide to help governments and organizations better utilize open data to combat risks from natural disasters and climate change.
By fostering a spirit of innovation and collaboration, the OpenDRI Field Guide will enable communities to continue to develop targeted, open source tools for disaster risk reduction, promising a clearer path towards increased resilience in some of the world's most vulnerable communities.