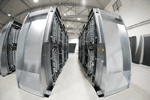 There's a growing interest in using shared server resources for the storage of geospatial data. In the United States, federal agencies have banded together to explore shared server resources through a GeoCloud Initiative, and western states are also looking to move to a commercial cloud provider for the storage of their GIS data in an effort to control costs and increase efficiency.
The data hungry nature of GIS, with use across broad government departments, and the layered approach that quickly balloons data storage needs, begs for a more streamlined solution. This effort to band together in the approach to cloud providers makes a great deal of sense, and provides considerable weight to the request. Clearly the shared pain, and like requirements, speaks to a broader issue in the geospatial industry that are shared across all levels of government and all levels of enterprises that have a long-standing investment in GIS at the enterprise level.
There are multiple motivations for this inquiry, including lowered costs, flexibility and scalability of enterprise solutions, and reduction in staff support. Geospatial staff often are required to deal with server-based issues that often are not be their main areas of expertise, which can result in costly errors or the need for expensive outside consulting contracts.
Additionally, the shared resource of professionally-maintained servers available through high-bandwidth Internet connections, provides increased accessibility, with faster server performance and speeds, greater reliability, and quicker scalability, all at a cheaper cost. Expect to see some compelling offerings from the vendor space to meet this demand. In this era of cost cutting, we can expect to see a strong move toward shared resources that improve performance and efficiency, freeing up money and time for more valuable geospatial pursuits.