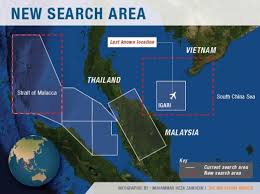 The International Charter on Space and Major Disasters has been activated for the search, which rallies 15 space agencies and national space institutes to pass along imagery from satellites to aid in the recovery effort. High-resolution imagery and satellite radar data are bing compiled and shared with authorities in an effort to put the mystery to rest.
The governments of Malaysia, India, Vietnam and China (as well as international partners) are scouring the oceans for any sign of wreckage. There is ongoing call for closer collaboration, particularly after China released satellite imagery that was called a mistake by Malaysian authorities, and is being investigated by Chinese officials. This imagery was posted online on March 12 along with its geographic coordinates only to prove false after Malaysian and Vietnamese search teams spent all day March 13 scouring the waters off Vietnam's southern tip looking for the wreckage that seemed to be depicted in the imagery.
DigitalGlobe launched a crowdsourcing campaign through their Tomnod platform, enlisting the general public with tools to comb through satellite imagery to help locate the aircraft. On the day the flight disappeared, DigitalGlobe had two of the company's satellites collecting imagery of the area where evidence suggested the aircraft may have crashed into the water. The satellites collected approximately 3,200 square kilometers of imagery that is now being used in the Tomnod platform. Thousands of volunteers are helping to process and analyze this imagery, with some down time experienced due to an overwhelming response and limitations of Internet servers.
Luke Barrington, senior manager of Geospatial Big Data for DigitalGlobe told FoxNews.com, "We have had six million map views. Half-a-million people have signed up, it's a 100 times the response we've had before."
While there's no clear win for the benefits of geospatial technology yet in this case, the mystery holds significance as a reminder that the world and our oceans are vast, and that no insight would be possible without satellite-based monitoring systems.