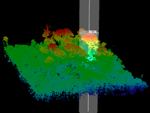 The laser technology known as LiDAR is likely to make a significant impact in overcoming the challenges faced by government agencies, commercial forest managers, and non-governmental organizations as they move to support reducing emissions from deforestation and degradation, or REDD+ initiatives. Indonesia has been experimenting with this approach of using international funds to reduce greenhouse gas emissions (GHG), but it requires new approaches to accurately measure and monitor the makeup of the forest over time.
LiDAR is that all measurements are made in three dimensions. And even though the laser pulses cannot penetrate vegetation, some of the laser energy can often find a way through small gaps in the forest canopy to reach the ground. Each outgoing laser pulse spreads out as it moves towards the ground, and will typically generate more than one "return" pulse – such as from the top of a tree canopy, branches and understory, as well as the ground.
The results of an airborne LiDAR survey are a highly detailed terrain map, plus other valuable information including canopy height, canopy closure or gaps, hydrological flow, and slope maps. This type of detail is typically not resolvable in satellite data, and enables applications that require accurate monitoring of forest stand structure and health. One additional consideration for applications requiring forest monitoring is that the high resolution and accuracy of LiDAR data enables traceable and reproducible measurements, which is invaluable for any application that requires repeated monitoring with regard to change over time, such as MRV (Measuring, Reporting and Verification).
In June of 2010, The Nature Conservancy (TNC), Forest-Carbon, and Credent Technology, worked together as a project team to develop a pilot demonstration project over a site in East Kalimantan, Indonesia, being monitored under the REDD forest carbon program. Working in partnership with Forest-Carbon, Credent acquired LiDAR data in a test region that would provide a good representation of the type of terrain and land cover found throughout the region. This LiDAR overflight is one of the first conducted in Indonesia specifically designed to quantify the ways in which the information generated from the airborne survey could be leveraged to assist the REDD project reach its stated goals.
Preliminary analysis of the Kalimantan data shows good information was obtained with the LiDAR data collection. In a fairly short period of time, Credent was able to produce not only the standard products delivered with all LiDAR acquisitions, but also to build the value-added data sets specifically useful to forest managers. Further analysis is currently underway by TNC and Forest Carbon to determine specific information that can be derived with regard to a REDD project site. Based on the encouraging results from the 2010 Kalimantan LiDAR collection, plans are being developed on how to improve the use of the LiDAR technology for tropical forest applications.
This is a digest of a more detailed look at the application of LiDAR for forest management on our sister site V1 Magazine. Learn more about the application of LiDAR for forestry in Indonesia, including more details and images, here.
About the Authors: Ron Behrendt is a geospatial business development consultant for Credent Technology (Asia) Pte. Ltd.; e-mail: ron at credent-asia.com. Abhineet Jain is a LiDAR application specialitst at Credent Technology (Asia) Pte. Ltd.; e-mail: abhineet at credent-asia.com.