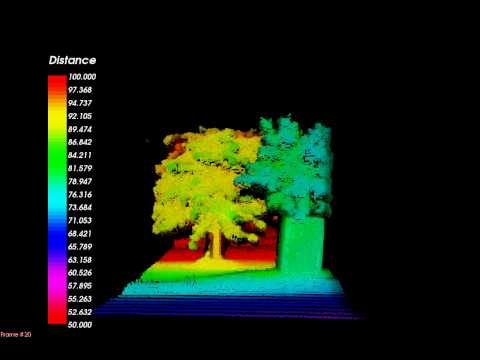 Flash LiDAR is really focal plane LiDAR, with an array of sensors to capture returns such as with the CCD sensors in today's digital cameras.
The two big advantages is that Flash LiDAR can collect more data and it is more consistent. With a focal plane array, you may have 16,000 receiving elements, so with one pulse of light you collect 16,000 returns. The data expands exponentially for Flash LiDAR. The other advantage is the geometric strength of the solutions, because it's like a framing camera. You can do photogrammetric bundle adjustments on focal plane LiDAR, so you get much more accurate and consistent geometric solutions.
A lot of the technologies that we have for geocorrecting imagery will transfer into Flash LiDAR, so we will have a head start on processing. On the point cloud side, the point clouds will fit directly into the software that we have now.
Focal plane LiDAR will evolve to be a lower mass sensor compared to single scanning LiDAR of today, giving it another advantage for smaller aircraft and even UAS platforms. The size and weight is on the order of 7 kg for some systems today, which fit on larger drone platforms, and will continue to decrease is weight and size.
Source: Lewis Graham with GeoCue at the ILMF 14 Conference (http://vimeo.com/87737332)