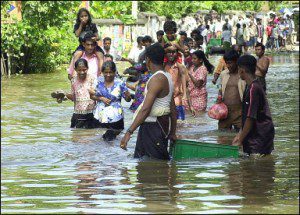 Asia and the Pacific are at the epicenter of severe weather disasters and with the highly concentrated population, countries in the region are vulnerable to climate-induced migration. With this pending threat, an ongoing effort is underway to craft public policy to mitigate the risk and plan for orderly migration scenarios.
A report was released this week from the Asian Development Bank titled, "Migration Due to Climate Change Demands Attention." In the report, the climate threats and the complex nature of migration were outlined. Such impacts as rainfall variability (droughts and floods), high temperature, more severe monsoons and cyclones, and rising sea levels all pose issues to the areas highly concentrated populations. With 4 billion people in the region, mass migrations of millions of people need to be planned for.
To date, the planning and assistance schemes for climate-induced migration are poorly coordinated, with little cross-collaboration between national governments and international aid organizations. The report, and subsequent meetings and discussions, aim to stimulate policy debate on how to tackle the anticipated movement of people due to these global changes. The ultimate aim is to encourage sound foresighted policy that would manage displacement due to these pressures, and ultimately enable communities to remain where they are.
The policy challenge is to provide people living in precarious locations with a better chance of enjoying a sustainable livelihood with access to food, water and social services. While large-scale climate-induced migration is a gradual phenomenon, communities in Asia and the Pacific are already experiencing the consequences of changing environmental conditions including eroding shorelines, desertification and more frequent severe storms and flooding.
You can join in the discussion at the Asian Development Bank website where you can also download the report and view additional reference materials on this pressing subject.