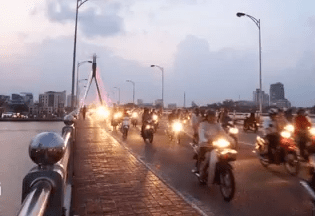 Improving energy efficiency isn't just good for the environment; it's good for economic growth, says a World Bank report, "Energizing Green Cities in Southeast Asia – Applying Sustainable Urban Energy and Emissions Planning." According to the report, there is a clear correlation between investments in energy efficient solutions in infrastructure and economic growth, based on a study of three cities.
Da Nang is pursuing a wastewater management strategy, an energy efficiency and conservation program, and looking at ways to use renewable energy technologies and public transport development.
Surabaya is developing plans for a mass transportation system and looking at ways to harness energy from landfills.
Cebu City is cutting fuel use in the transportation sector by 15 percent simply by using an ethanol additive in its motorized vehicle fleet. The city has also worked to improve the energy performance of city buildings by using more efficient lighting technologies and smarter air conditioning schedules.
Sustainable Urban Energy and Emissions Planning or SUEEP can help cities get on the green growth path by facilitating the development of comprehensive urban energy policies and investment strategies to enhance energy efficiency.
Applying the SUEEP process helps city leaders evaluate potential infrastructure investments comprehensively across sectors and against financial, social and environmental returns. Cities can pursue resource efficient, cleaner and more resilient growth path and still be engines of growth.
Source: World Bank