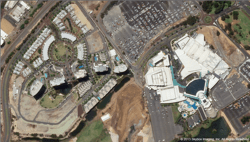 SkySat-1 is a high-performance satellite capable of providing 4-band, high-resolution sub-metre class imagery. Operating in a sun-synchronous orbit of 600 kilometres, SkySat-1 also provides the first commercial high-resolution, full-motion video from space at 30 frames per second. SkySat-1 is the first of Skybox's planned 24-satellite constellation, which will enable revisit of up to four times per day.
Space Systems/Loral (SSL) / MacDonald, Dettwiler, and Associates, Ltd. (MDA) will build the 13 additional satellites to be launched in 2015 and 2016.The satellites, which will weigh roughly 120 kilograms each with dimensions of 60x60x95 centimeters, will be built based on our prototypes, designs and specs. Similar to SkySat-1, the satellites built by SSL will capture sub-meter color imagery and up to 90-second clips of HD video with 30 frames per second.
"With the successful launch of SkySat-1 in November 2013, we validated our high-performance imaging satellite design and economics," said Michael Trela, vice president of satellite systems, Skybox Imaging. "By partnering with SSL, we can leverage their unique production capabilities to scale with greater cost-efficiency and speed while allowing us to focus on prototyping next generation systems to better serve our customers."
With the planned 24-satellite constellation, Skybox Imaging will capture imagery for much of the Earth more than 4 times per day. The ability to collect data at different times throughout the day will provide the means for monitoring temporal signatures for new levels of insight.
"Geoimage is very pleased to have been selected as a Skybox reseller in Asia Pacific," said Wayne Middleton, CEO of Geoimage Pty Ltd. "The spatial resolution, spectral bands and video capabilities provided by Skybox's satellites are ideal for much of the monitoring work we focus on and will directly benefit our clients for a range of applications. This partnership will help us further strengthen our key position in the geo-environmental and agricultural industries, not only in Australia but throughout parts of Asia including Malaysia, Indonesia and the Philippines."
To view examples of imagery and video collected by SkySat-1, please go here: http://www.geoimage.com.au/satellite/skysat-1.