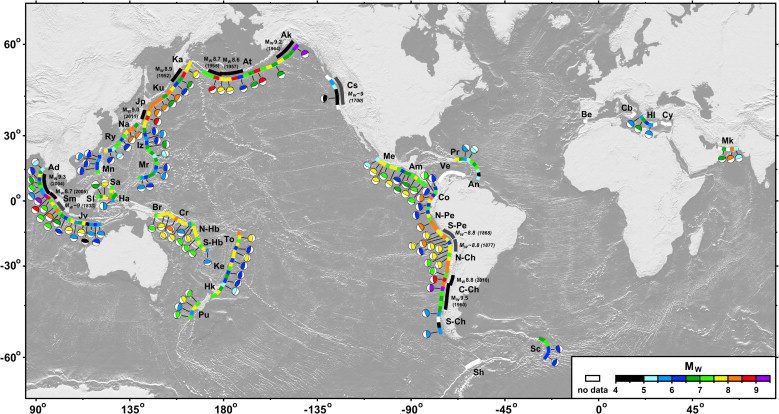 This effort has gained more urgency of late due to several giant earthquakes that have had a dramatic toll in lives and economic impact, including:
The Sumatra earthquake and tsunami of Dec. 2004, where more than 200,000 people were killed
The earthquake in Chile in Feb. of 2010
The earthquake and tsunami in Japan of March 2011 where thousands of lives were lost and where massive destruction included widespread contamination with the meltdown of the Fukushima nuclear plant
The lead researchers for this effort are Dr. Wouter Schellart of the Monash University in Australia and Professor Nick Rawlinson from the University of Aberdeen in Scotland. The team used earthdate data dating back to 1900 to determine the subduction zones and to map key characteristics. They found that there are physical similarities with the subduction zones that have caused these giant quakes, including the angle and curvature of the subduction zone as well as the rate at which it is moving. With this data, the team mapped and rated the subduction zones across the globe.
Asia is an area with particular susceptibility to large quakes, with many zones capable of generating mass destruction. The zones of particular note are:
The Sunda subduction zone, running from the Andaman Islands along Sumatra and Java to Sumba
The Hikurangi subduction segment offshore the east coast of the North Island of New Zealand
The Makran Trench along the southwestern coast of Pakistan
The North Sulawesi east of Sulawesi, west of New Guinea, and north and east of Timor
Only three of the zones of great significance were outside of Asia, with the zones of the Lesser Antilles, Mexico-Central America and Greece.
This research serves to map those areas of greatest safety threat, and puts some fears to rest in subduction zones that might previously have been considered as potential threats for giant earthquakes.
This new research appears in the journal Physics of the Earth and Planetary Interiors