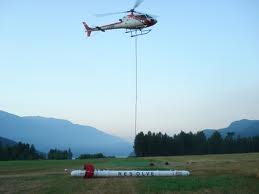 The project is funded by the World Bank, and has been launched in collaboration with the National Geophysical Research Institute (NGRI)-Hyderabad and Aarhus University, Denmark. The interpretation of the data will be validated on the ground with borehole results.
The unique ability of the heli-borne survey to accurately map the top 300 metres in fine detail has been used by engineers and environmentalists in Australia, Malaysia, Norway, Greenland, Italy, Germany, Holland, France and other countries, and has been employed for a wide range of applications, including tunnel pre-engineering, contaminant plume detection, tailings pond assessment and coastal salt water encroachment studies.
Bihar is one of the six states selected by CGWB for pilot aquifer mapping. Bihar represents the alluvial area. Other states, including Tamil Nadu, Karnataka, Maharashtra and Rajasthan represent desert, coastal, volcanic and hard rock regions.
Like most countries in the world, India's major water demands are fulfilled from groundwater. The ever-increasing population and its resultant stress on groundwater are felt largely in terms of drying of large number of bore wells across the country.
Source: Times of India