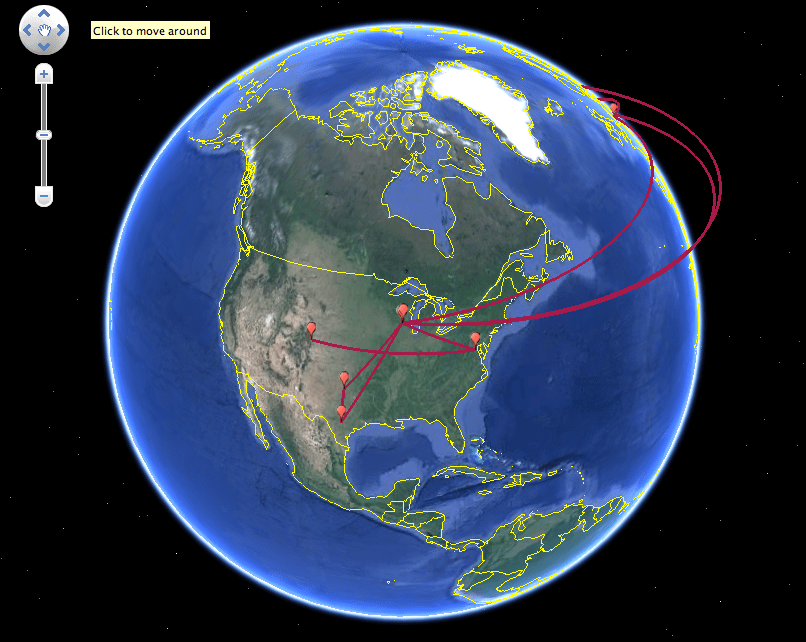 In the geospatial enterprise sphere it was Esri that popularized the story map, in large part to differentiate from the consumer platforms, and speak to the broader benefits of the GIS investment. Esri's cloud mapping platform ArcGIS Online has seen phenomenal adoption in a short amount of time. Google has had enterprise and developer tools, and now has gotten into the map story creation sphere with their new Tour Builder. As with Esri's tools, the ability to add photos, videos and timelines to a map opens up a whole new and broader community of users.
Shared Perspectives
A story is a way to compile information into a narrative that shares a perspective. Mapping, like pictures or video, is a way to condense information in a way that can be expressed more quickly than text, and in a visual way that can be explored. Maps are an incredible tool for providing perspective, to tell about a journey, share the historical backdrop to location, to make sense of change and impacts, and to illustrate current events.
Telling stories with maps does have a history prior to the move to digital, but it has been a rather small sliver compared to wayfinding. Now that digital maps have become infinitely portable, and have incorporated so many inputs, they are transforming what we think about maps. Rather than vehicles for rote memory exercises about place, everyone's ability to make a compelling map is forging a new relationship with the world around us.
Rising Relevance
Our ability to search vast knowledge banks through our keyboards has created an augmented memory that is hard to do without. So many conversations or debates these days include a few quick glances at phones or tablets to reset the course of conversation or fill in gaps that the storytellers can't remember. With the rising reliance on our digital devices and the knowledge we can access through our devices, it's becoming more and more important to use our digital tools to embellish everyday narratives.
Huge collective strides were made with the widespread free use of Google Earth, giving a common reference point for what modern mapmaking can provide. Now that we've had so many years of free access to maps and directions, the novelty is wearing off. This evolution to map storytelling paves the way for a greater utility for maps, and an enhanced understanding of place.
Aided Reasoning
Now that storytelling with maps is taking hold, the next logical phase is a wider understanding and use of spatial analysis to compare and contrast place-based information for better decision making. Spatial analysis has become much more accessible, but the combination of maps and math still turns off a lot of people. With all the data that we're collecting today, the distribution of data in geographical space is a start, but the analysis of spatial patterns, measurement of spatial relationships and statistical explorations of place aren't far behind.
Spatial analysis adds a complexity that's far beyond the collection of data for accurate and timely base maps and directions. It provides a means to tell better stories with maps, but it also adds problems with defining location and relating place and position. Spatial analysis is a frontier that may take some time to be popularized as there are many mistakes in reasoning that are so often repeated. To provide broader access to spatial reasoning tools may require advancements in algorithms and the semantic web to ensure that approaches and assumptions can be verified and duplicated.
The increasing awareness about putting stories on a map helps professionals as well as individuals relate and use geography in their everyday lives. As in the Map Wars, the Map Story Wars don't have any losers when it comes to the users who get more tools and data for less money. The Map Analysis Wars promise to usher in a democratized extension to our insight that has been the realm of consultants and well-funded organizations. Who will be first to kick off the Map Analysis Wars so that we may all benefit?