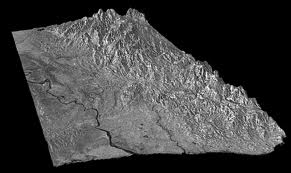 Radar has the advantage of capturing imagery at night, and seeing through clouds, which is a distinct advantage in Asia where cloudcover is prevalant. Today's commercial radar imagery provides 1 meter resolution, and because of the unique property of radar to measure different angle of returns, 3D data can be derived from a single image.
The resulting data will be the most up-to-date terrain and elevation data available for the area. This detailed model of the land surface with height information is instrumental for a variety of disaster management and mapping applications.
MDA has delivered over 2.5 million square kilometers of DEMs within the Asia-Pacific region since 2009. The RADARSAT-2 satellite's unique combination of global coverage, high resolution, wide image swaths, and its ability to acquire weather-independent imagery makes it a good choice for national scale mapping, monitoring, and disaster management programs.