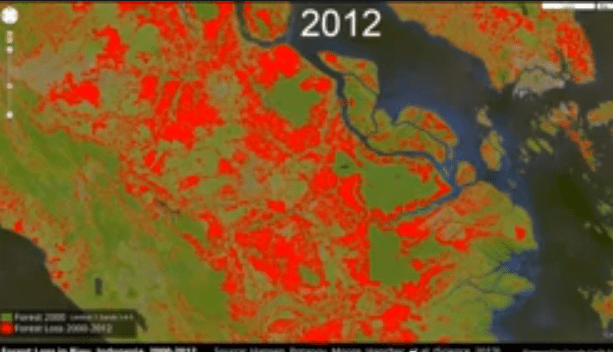 Riau province is a global hotspot of tropical rainforest loss over the last decade, with more recent clearings moving into peatland swamps. Sumatra has lost more than 50% of its natural forest within the past 30 years. This move into the peatlands with agro-industrial production has particulary damaging environmental effects, given that these natural carbon stores are compromised accelerated greenhouse gas emissions.
This human impact was responsible for most of the world's forest change, although natural forces such as, wildfire, windstorms, insect infestations, and regrowth of abandoned agricultural areas — also caused forest changes.
Several things have come together for this unprcedented scale fo global mapping, including free archive access to Landsat data that allowed them to systematically mine the archive, a global acquisition strategy for uniform coverage of the globe, and cloud computing that allowed multiple processors to analyze the imagery simultaneously turning a 15-year project for one PC into something that could be accomplished in several days.
The global consistent product, provides a window onto what's happening on a global scale, and also has the granularity for local relevance. The consistency and coverage allows scientists to compare forest changes in different countries and to monitor annual deforestation with ongoing production of this dataset. Researchers can see enough detail to tell local, regional and global stories.
Overall, the study found that from 2000 to 2012 global forests experienced a loss of 888,000 square miles (2.3 million square kilometers), roughly the land area of the U.S. states east of the Mississippi River. During the study period, global forests also gained an area of 309,000 square miles (800,000 square kilometers), approximately the combined land area of Texas and Louisiana.
Team members from Google Earth Engine reproduced in the Google Cloud the models developed at the University of Maryland for processing and characterizing the Landsat data. Additional project funding was provided to the University of Maryland by the Gordon and Betty Moore Foundation.
The following video illustrates the overall project, and the answers that can be gleaned from this global product.
To view the forest cover maps in Google Earth Engine, visit: http://earthenginepartners.appspot.co…
To learn more about Landsat, visit: http://www.nasa.gov/Landsat or http://landsat.usgs.gov