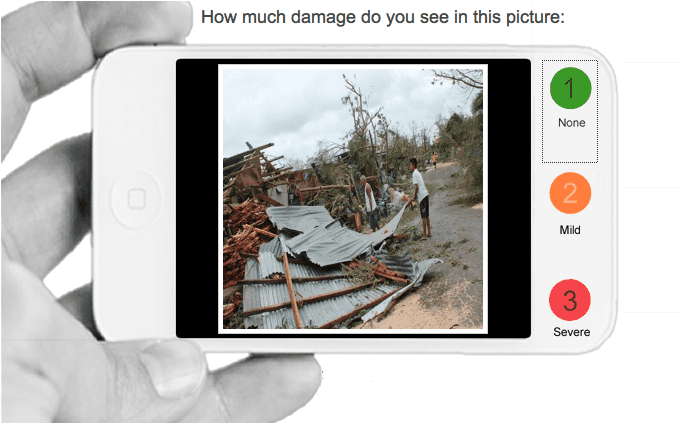 By now, we've all seen the on-the-ground images of Typhoon Haiyan, known as Yolanda by Filippinos. It's hard to fathom the level of destruction, and aid has been slow to reach those remote villages that have no food or water. Mapping provides a means to make sense of the chaos, assisting aid organizations in channeling the relief where its needed most, and helping route that relief more quickly.
• The Standby Volunteer Task Force, has worked with the global humanitarian relief group GISCorps and Esri to create a story map of the devastation.
• MapAction deployed a team alongside the UN's Disaster Assessment and Coordination Team to produce infrastructure maps of Taclaban city and Busuanga islands; affected population maps; storm path and storm surge maps; situational information on blocked routes; and evacuation centre maps.
• Online volunteers have mapped and rated the level of damage on the website, MicroMappers Image Clicker.
• The Humanitarian OpenStreetMap Team (HOT) has activated to provide geographic base data in areas affected with coordination through the Digital Humanitarian Network(DHN).
• Astrium's Pléiades high-resolution satellites captured data on both Nov. 8, 2013 before the typhoon hit and Nov. 13, 2013 after the destuction. That imagery can be downloaded at ftp://ftp.astrium-geo.com/Philippines/
• DigitalGlobe has provided before and after imagery as well as their Tomnod crowdsourcing capability to make sense of the devastation.
• NASA used a technique called Advanced Rapid Imaging and Analysis (ARIA) using X-band interferometric synthetic aperture radar data from the Italian Space Agency's COSMO-SkyMed satellite constellation to depict the scale and intensity of change.
These collective efforts will help ensure that the world is aware of the full impact of this natural disaster, spurring outreach and assistance to those most in need. The immediate response will require coordinated efforts to stitch back the map of a devastated region.