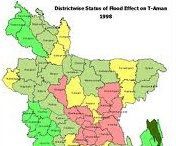 The main objective is to comunicate information like census and survey information about the country. The system is design to provide maximum accuracy, accessibility and portability.
The Minister for Planning, Air Vice Marshal (Retd) AK Khandoker said the, "GIS-based Application Software has been developed with the directives of Prime Minister Sheikh Hasina for quick implementation of the vision-2021 plan as announced by the government."
With this move, Bangladesh enters into a new era of open data, joining more developed countries from across the globe.