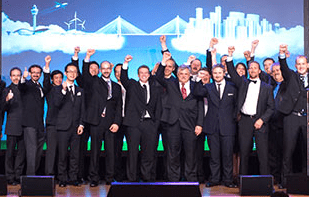 During the awards ceremony, 22 Be Inspired Awards winners and nine Be Inspired Special Recognition Awards winners were acknowledged. In addition, this year's recipient of the Bentley Educator of the Year award, Dr. Francelina Neto of California State Polytechnic University Pomona, United States, was acknowledged, as was Captain Nicholas Sloane, the Salvage Master of the Costa Concordia Parbuckling Project, who was saluted as an Infrastructure Hero for his key role in this unprecedented engineering feat to safely right and remove the sunken Costa Concordia cruise ship.
Six independent panels of jurors, comprising accomplished Bentley users and distinguished industry experts, selected the Be Inspired Awards winners from 65 project finalists. These finalists had been previously chosen from submissions by more than 300 organizations in 43 countries.
The Be Inspired Special Recognition Awards winners from Asia for 2013 are as follows:
Sustaining Our Society
Henan Water & Power Engineering Consulting Co., Ltd – Shahe Aqueduct Project – (Pingdingshan, Henan, China)
Attaining Return on Innovation
Kellogg Joint Venture Gorgon – Gorgon Project – (Barrow Island, Australia)
Innovation in Comprehensive BIM
GS Engineering & Construction – Mokpo Cable-stayed Bridge – (Mokpo, South Korea)
The Be Inspired Awards winners from Asia for 2013 are as follows:
Innovation in Generative Design
LAB Architecture Studio with SIADR – Wujin Council Offices – (Changzhou, Jiangsu, China)
Innovation in Mining and Metals
Hatch Associates Pty Ltd – Qinghai Magnesium Smelter – Dehydration Facility – (Golmud, Qinghai, China)
Innovation in Process Manufacturing
Pall India Pvt. Ltd. – Jet-pulse Blowback Filtration System (Gas Solid Separation System-GSS) – (Panipat, Haryana, India)
Innovation in Structural Engineering
Shibanee and Kamal Architects – Bhau Institute of Innovation, Entrepreneurship and Leadership – (Pune, Maharashtra, India)
Innovation in Utility Transmission and Distribution Infrastructure
China Power Construction Corporation Jiangxi Electric Power Design Institute – Duxiling 220 Kilovolt Substation – (Pingxiang, Jiangxi, China)
Innovation in Water, Wastewater, and Stormwater Network Modeling and Analysis
Maynilad Water Services, Inc. – Remote Leak Detection through Hydraulic Modeling – (Malabon City, Philippines)
Bentley Systems CEO Greg Bentley said, "I attend many Bentley events throughout the year, and I certainly enjoy and value each and every one of them. But our Be Inspired Awards ceremony – now part of our broader and more compelling Year in Infrastructure Conference – is, indeed, one of my favorites. It reminds me why all of us in the field of sustaining infrastructure do what we do. Hearing about the remarkable projects that are delivered every year in service to enhanced quality of life is an inspiration like no other. I thank and congratulate this year's award winners, along with all of our nominees, for their important contributions to sustaining our society, our environment, and global economic growth."
Bentley Systems has posted highlights of this year's winning projects on its website and will include detailed descriptions of all nominated projects in the print and digital versions of The Year in Infrastructure 2013, which will be published by year's end. To review the last nine editions of this publication, which together feature more than 2,000 world-class projects recognized in the Be Inspired Awards program since 2004, visit www.bentley.com/yearininfrastructure.
For additional information about each of the 2013 Be Inspired Awards project winners, visit www.bentley.com/beinspired2013winners.