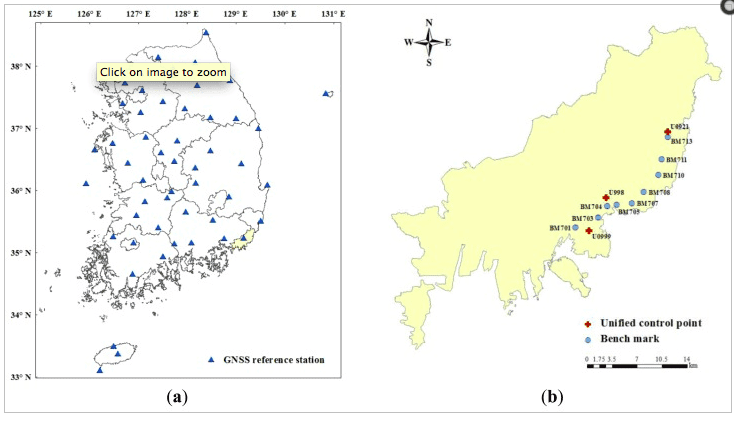 The researchers used a smartphone equipped with various sensors and various wireless communication devices for network real-time kinematic (RTK) positioning and gravity surveying.
Because smartphones are so easy to use, researchers can develop particular applications using the built-in sensors of the smartphone, even with little knowledge of hardware systems. As a result, smartphone use is on the rise in various fields including geology, medicine, education, and disaster preparedness and prevention.
To determine the position of a mobile station, the RTK system sends and receives data between the CORS and the mobile station using a digital ultra-high frequency (UHF) communication link. the National Geographic Information Institute (NGII) of South Korea has provided a GPS data-download service (http://gps.ngii.go.kr/) using information received by the 52 CORSs.
Gravity measurements were carried out using a relative gravimeter by calculating the absolute gravity based on the difference between each gravity station and a reference gravity station. The difference between each gravity station and the reference gravity station can be calculated following tidal corrections, height corrections, drift corrections, and network adjustments.
The smartphone-based gravity-surveying app consists of a main module to manage and send the survey data, an NTRIP client module for network RTK-based positioning in the GNSS receiver, and a gravity-processing module for the tides, meter height, and instrument-drift corrections, as well as network adjustments.
The app consists of gravity measurement using network RTK, a viewing facility for the measured data and results, and process and preferences screens. The 'gravity measurement with network RTK' screen allows collection of gravimetric data, measured by the gravimeter, and 3-D positioning is enabled via RTK technology in the receiver's network.
The proposed app provided an operational environment for network RTK positioning and gravity surveying. The gravity-processing module of the app converted relative gravity values into absolute gravity. Additionally, corrections to the gravity measurements due to errors associated with tides, meter height, instrument drift, and network adjustments could be made in semi-real-time.
Source: NCBI