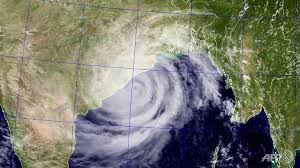 The country's satellite imagery satellites are being credited with saving lives thanks to better forecasting, and the ability to share intensity with citizens and policymakers to urge evacuation. While 27 people have bee identified as killed by the cyclone and corresponding floods, this is in direct contrast to tens of thousands that have lost their lives in previous storms of less intensity.
There are 11 Indian remote sensing satellites in service, allowing the National Remote Sensing Centre in Hyderabad to help agencies forecast cyclones more than 72 hours in advance. India sent it's first remote sensing satellite in space in 1979, for disaster forecasting and monitoring, and since then has continued to add capacity.
The synthetic aperture radar satellites, Risat-1 and Risat-2, are particularly helpful given their ability to look through clouds and even operate at night. The Indo-French Saral satellite was also instrumental, given its ability to monitor ocean circulation and sea-level elevation.
The Indian Space Research Organisation (ISRO) is called on to forecast and assist in damage assessment during many natural disasters, including earthquakes, proving their worth time and again. The current effort isn't over, with floods that still need to recede, roads that need rebuilding, power poles that need to be replaced in order to restore power, and transportation routes needing to be restored. The satellite constellation is helping to assess the damage and speed repairs.
It is in times like these where investments in space technology pay off, for who can adequately measure the cost of a human life, or the economic value when recovery takes weeks instead of months or even years.
Sources: Times of India, Bloomberg