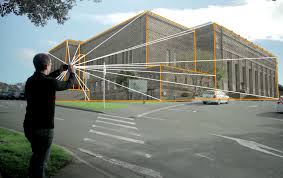 The Spike combines a 3D digital compass, a laser, bluetooth transmission, and syncs with the phone's camera and GPS in order to geolocate and collect details on buildings and infrastructure. Users can capture distance, direction, height and volume just by snapping an image. You're also able to use just the laser rangefinder for distance measurements, good for recreation such as golf or for fieldwork such as urban forestry.
The developers of Spike first had good success with a rugged handheld rangefinder and GPS data collection device that has been used widely in disaster response and utility and forestry fieldwork. To get this technology onto a smartphone, the technology elements have been miniaturized to fit on a case that clips to the back of the smartphone. The company is working on a quick-release mechanism so that the case can stay with your phone and the device can be clipped on and off.
The company is targeting augmented reality applications that require precise measurement to sync with data about the world around us. They also have their eye on location-based services, where the device can be used to guide users to marketers or to improve the quality of data in crowdsourced data collection endeavors. The utility for outdoor measurement of buildings and landscape opens up the potential for a wide range of contractors as well as new applications for real estate, building design and city planning applications.
One can imagine a painter using the device to determine outdoor building volume to calculate the amount of paint they'll need and to quickly assess building height for the ladder height to use. The quick volume calculation will be helpful to heating and air conditioning contractors. The list of potential for home improvement and construction applications is long, particularly if coupled with applications that aid design and communication.
There is a deep team of geospatial industry veterans behind this product. They turned to Kickstarter to grow the community more broadly, and to bring in a younger generation of developers and hackers to create innovative applications for the device. The Kickstarter campaign has several tiers that have sold out already, but there are still opportunities to get one of the first devices or to partner with the company on unique solutions.
See more about the device in the video below:
http://www.kickstarter.com/projects/ikegps/spike-laser-accurate-measurement-and-modelling-on