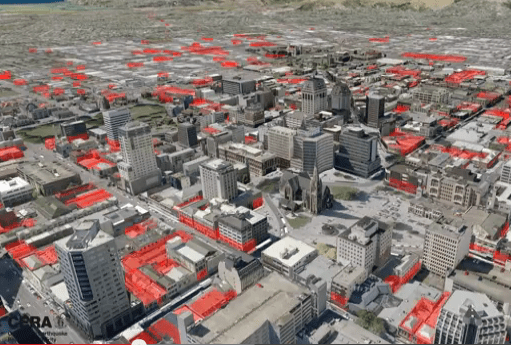 The Christchurch Central Development Unit (CCDU) and the Canterbury Earthquake Reconstruction Authority (CERA) are using a 3D GIS software called Key 2 Virtual Insight (K2Vi), which is AAM Group, with offices in Australia, New Zealand, Malaysia and Africa. The organization has been creating 3D models since 1995, and have added the supporting software for collaborative use of the model.
Not only does K2Vi provide a means for collaboration around the model, it also incorporates simulation of such elements as traffic flow and flood risk for better decision making. By adding the time dimension, the tool provides a means to test different timelines and scenarios for the reconstruction process.
In addition to this 3D software, AAM is also the only licensed reseller of Pictometry oblique image capture, which helps inform the model with realistic color and texture. The high-resolution imagery that is taken from a five-lens camera, provides an efficient workflow for capturing great detail in a dense urban setting. The imagery captured from all directions aids automated extraction to build spatially-correct building geometry, and the images are then draped onto that model for photorealism.
By using this software as a collaborative tool, CCDU now has a detailed recovery plan including blueprints. Engineers, architects and construction crews are poised to make use of this information as they enter the reconstruction phase of the city's recovery. The planning to this point has been aided by the 3D views to help stakeholders quickly reach a consensus.
Christchurch's 3D model has been greatly beneficial for quick planning and recovery, and will continue to be a central point for collaboration as the work continues. The model, with its realism and simulation capacity, has helped energize those involved, because they are able to see the full plans in place to bring their city back from destruction.
http://www.aamgroup.com/services-and-technology/3d-gis#