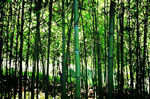 In this International Year of Forests, much focus is being places on the health of forests and the services that they perform for the environment, biodiversity and the economy. Asia has been a global leader in forest conservation and reforestation efforts, reversing a net loss of forests in the decade from 1990-2000, with a net gain in the decade since.
The aim of the International Year of Forests is to raise awareness about the benefit of forest conservation, and the ways of generating income without chopping down trees. Although worldwide there were 52,000 sq km lost per year between 2000 and 2010, that was a marked improvement on the 83,000 sq km annual figure seen during the previous decade.
Within Asia, the bright spots are in China, Vietnam, the Philippines and India where all have seen seen their forested areas increase in size. While the above countries are Asian bright spots for conservation, the region is also home to some of the most threatened forest hotspots on the globe.
Malaysia is cutting down forests at more than triple the average rate of the rest of Asia. The destruction there isconcentrated in the peatland forests on the island of Borneo. A new analysis of satellite data reveals that roughly 10 percent of forests in the Malaysian state of Sarawak on Borneo were cleared in just the past five years.
The Indo-Burma river floodplain, including the Mekong River, has just five percent of its original habitat remaining. The Sundaland in the western half of the Indo-Malayan archipelago has only seven percent of the original extent of forests. In the Philippines, high rates of population growth are putting new pressures on forests. The Mountains of Southwest China are also under threat as only eight percent of the original forests remain due to population pressures and the construction of the Three Gorges Dam.
Forest health is tied to a wide range of benefits. The livilihoods of billions of people depend on healthy forests for income. The biodiversity of forest species provide valuable medicines. The forests serve to clean both air and water, and to sequester carbon for a healthy climate. In the face of increasing pressures, countries are being encouraged to take a new look at the long-term value of managing and protecting their natural forests, which are globally important assets.
Resources