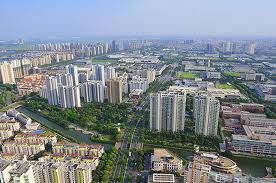 SIP's Geoinformation Services (GIS) is taking data and building a map of the city that contains 660 layers of information ranging from power lines to green areas to population demographics. The aim is for each layer to be managed by the relevant agency and for it to be gathered by the system to form a complete package which can be selectively open to third-party application developers.
"Information will change the relationship between governments, people, countries and enterprises," said SIP Chairman Yang Zhiping. "And the great thing is, the more you use it, the more efficiency you have. It breaks the isolation between departments, authorities and different entities."
The industrial park development has been rapid, with roughly 3,000 start-up companies involved, with 200 VC firms and $5.5 billion to invest. The industrial park was founded in 19994, and has been focused on big data problems from the start. Ther are already 100 data centers in the development, including geographic, census and corporate information.
"No single company or organization can build a smart city alone," according to Charbel Aoun, Senior Vice President of Schneider Electric's Smart Cities, Strategy and Innovation. "All communities must involve each of their most important stakeholders, including government officials, citizens, and the private sector, in the process, or face tremendously difficult obstacles in making its vision a reality."