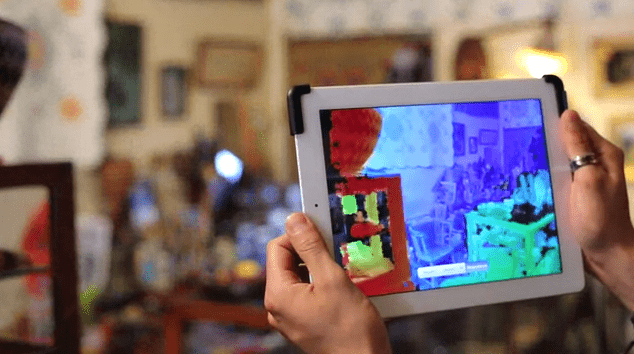 The Structure Sensor uses twin infrared LED light sources to image and capture its surroundings. One advantage of the IR sensor is the ability to see in the dark. There are also several different applications that come with the device that include:
Object Scanner – the ability to capture close up objects to import and model in CAD software and port to a 3D printer
Room Capture – with the means to capture a 3D model of an interio that can be imported into CAD, and that can be measured within the application for accurate distances
Augmented reality demos and rudimentary games to help spur the development of immersive games
While the intended market for this device appears to be a combination of gaming and augmented reality, the practical use of the low-cost scanner for interior 3D data capture points to a new era of accessible 3D scanning technology. With the initial run of the device, a $349 package gets to you one of the first Structure Sensors for the iPad 4th generation.
The device range begins at 40cm and extends to more than 3.5 meters. With this limited range, interiors of rooms can be easily captured, but capturing a larger area would require stitching of multiple scenes.
The Structure Sensore is an interesting new foray into mobile 3D data capture that holds promise. This effort has drawn serious backers from a wide range of impressive technology evangelists, which means the concept and technology have been well vetted by those that are eager to take advantage of this new technology. The peer acceptance of the concept and the niche are seen in the fact that the campaign has already quadrupled its funding goal just days into its campaign.
View the Kickstarter video at the link below to learn more about the capabilities, and the vision of the company.
http://www.kickstarter.com/projects/occipital/structure-sensor-capture-the-world-in-3d