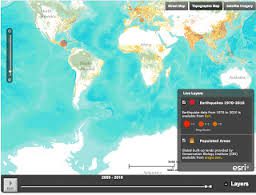 GIS in the cloud has proven to be a paradigm shift, where it's not just an extension of GIS functionality for some, but a complete replacement for desktop and server functionality, without the need to administer systems or amass their own data. At the same time, for enterprises with a rich history of GIS, the cloud provides a means to extend that functionality to a broader community, and to also package data and functionality into applications that work on mobile devices and tablet computers.
ArcGIS Online has recently added spatial analysis functionality to their online offering. Among these functions are: buffers, aggregate points, summarize nearby features, summarize features that fall within, geo-enrich features with a location or collection of locations to be enriched with other data (such as demographic information), correlation, finding hot spots, drive-time analysis, find nearest functions, there are also attribute calculators available, dissolve, merge, overlay, etc. Many of these are classic GIS functionalities that have traditionally only been available through ArcGIS for desktop, and that are now online, and the plan is to continue on this path.
Esri has made the Web mapping fuctionality into something new, with the ability to tell stories. Not only can users author a web map, and use that map on any device, anywhere and at any time, but they can also create a narrative through the use of templates. The templates provide the means for GIS practitioners, as well as the general public, to combine photos and narratives with maps to describe historical events, to tour geographies, explore current events, and many more uses and applications.
Just recently, Esri has made available their GeoEvent Processer extension available. This new functionality provides a means to connect to any sensor, and to add animation and real-time information to maps. Filtering real-time data for insight has been a goal for decades, and now that funcationality is there to monitor assets, create live maps, and to create alerts around dynamic parameters to improve our management of complex events or systems.
The low-cost of cloud computing has meant that the functionality of GIS can be extended for a much lower cost than desktop software. As Web GIS matures, provisioned by the cloud, the use will balloon. This is a paradigm shift where much greater functionality, and the data to realize our visions, becomes infinitely accessible. The low cost per user is possible as the user base extends, and the promise of GIS is achieved through mass adoption.
Reading: