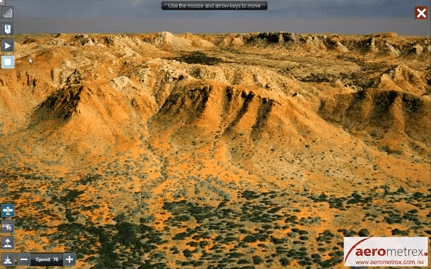 Euclideon describes their technology as a search engine for 3D points, much in the same way that Google is a search engine for text. It doesn't matter how big your model is, because the system grabs one point for every pixel on the screen. The model loads quickly (3 TB models in .8 seconds), because it searches for the point and then displays it to the screen, rather than the traditional path from hard drive to RAM memory to screen. Geoverse is also able to access a model over the Internet, to be viewed and navigated remotely with little lag time, eliminating the time-consuming process of transfering large point cloud files from remote servers.
Euclideon uses their own proprietary unlimited detail format, which indexes the points as well as compressing the file size down to 17% of the original file size. Within the Geoverse viewer, users can label and measure upon the point cloud, bookmark areas, and view the model on top of Bing street or aerial views or OpenStreetMap.
Euclideon offers a Software Developer Kit for customized applications and for service providers to offer their own players. Aerometrex uses this technology in their Aero3Dpro product along with their 3D modeling services.
View this video for an overview of the technology, with a pitch to the geospatial industry: