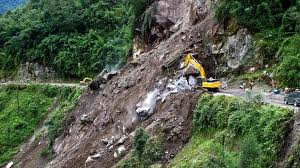 It's possible to map complex shear wave velocity structures in real time with the newly developed tomgraphic approach. The method uses ambient seismic noise recording and analysis.
"We use small, hardly noticeable amplitude ground motions as well as anthropogenic ground vibrations", Marco Pilz, a scientist at GFZ, explains. "With the help of these small signals we can obtain detailed images of the shallow seismic velocity structure."
The method could prove very beneficial in Central Asia, a region threatened widely by landslides. Shear wave velocity usually drops off significantly before a landslide slip, so with real-time monitoring warnings could be sounded.
The authors were able to map the detailed structure of a section of the Issyk-Ata fault, Kyrgyzstan, which runs along the southern border of the capital city, Bishkek, with a population of approx. 900.000 inhabitants. They showed that close to the surface of the mapped section a splitting into two different small fault branches can be observed. This can influence the pace of expansion or also an eventual halting of the propagation on the main fault.
Source: GFZ Postdam