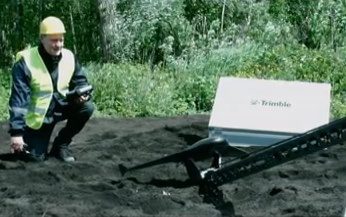 Trimble Business Center provides the aerial imaging and visualization software to process and model the returns from the UX5. Using the latest large imaginge sensor 'prosumer' digital cameras, the UX5 can capture crisp imagery down to a 2.4 cm resolution. With flight cruise heights from 1,000 meters to 5,000 meters, the UX5 can cover a range of 60 km, staying aloft for 50 minutes.
With the latest iteration, the pre-flight launch time has been reduced from 15 minutes to 5 minutes, further aiding the ease of use. The craft has also been designed for performance in conditions that would cause problems for manned platforms as it can capture imagery in light rains with winds up to 65 km/h.
The needed takeoff and landing space has been dramatically reduced to accommodate dense and complex capture areas, with a new reverse-thrust engine mode to make precise landings. While no UAS has cracked the obstacle sensing and avoidance problem yet, their is a panic button for the UX5 that brings the craft down quickly if site conditions change and there's an imminent collision.
Trimble packages the UX5 with software, and also offers their rugged Yuma Tablet PC with the necessary software for planning and monitoring flight progress.
Regulations still restrict the use of this platform in Trimble's headquarters country of the United States, but it is being put to good use throughout the world in such applications as mining, forestry, construction monitoring and agriculture, with sensors and workflows that can assess plant health or provide accurate quantity and volume calculations.
With this and other UAS advancements, the surveyor's toolbox just got quite a bit bigger, and the ability to accurately capture the context from the air provides a wealth of new opportunities.
See this short video for more product details.