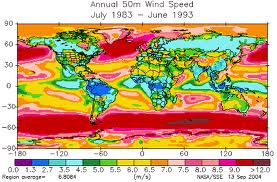 While Japan, Korea and China each have offshore wind farms, the potential for this capacity is far greater than the current install base. China has been the most aggressive in the region, adding 19GW within one year in order to gain 50% of the world market in offshore wind generating capacity.
The Donghai Bridge Wind Farm in Shanghai is currently the most high profile offshore wind project in China. It was completed in time for the World Expo being held in Shanghai in 2010. It is made up of 34 turbines with a combined installed capacity of 102MW. The province of Tinajin is constructing the Bohai Bay wind farm that when completed in 2020, will be the world's largest offshore wind farm with an installed capacity of 1,000MW (compared to Europe's largest at 300MW).
Satellites using scatterometers that measure wave movement are able to accurately measure surface winds across the globe. These readings help provide a baseline of wind optential near the coast that is augmented with synthetic aperture radar (SAR) for higher resolution readings. The data when combined provides a good map of both regional wind resources and optimal siting with the region.
After the wind farm location is determined, there's a need for on-site measurements of wind speeds in order to accurately forecast and measure power output. Increasingly LiDAR 3D lasers are being used to measure the wind speeds and directions, as well as the turbulance around the windmill blades for an understanding of impacts. Accurate forecasts of operational conditions and output are needed for estimating the power, and also monitoring the performance of the towers to determine if they require maintenance.