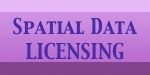 Recommendation #3 – Harness Open Data When Appropriate
The third and final recommendation for selecting spatial data is to look for ways to exploit open data sources when the opportunity arises. Open data is one of the most exciting areas of today's GIS environment and it's fraught with both opportunities and risks, depending on the context of usage.
I'm regularly asked on this topic about how I find some of the open sources of spatial data compare, and it's something we monitor very closely in looking for ways to improve. We ourselves have embedded mapping capabilities in products like MapInfo Professional and AnySite Australia, which utilise Bing and Open Street Map data to provide cost savings if a vector street map is no longer required.
Unfortunately, for most of us content is still king and accuracy is increasingly demanded, which can rule out crowd-sourced and open data for a lot of purposes. But there is a definite shift happening toward making spatial data more accessible and less restrictive, and in many cases this is being driven by government, where an increasing number of spatial assets are being catalogued and made more readily available.
In most countries, including Australia, whilst we're not yet in a utopia where whole-of-government licensing is a reality, there are some very good ways that the savvy and efficient among us can harness open data in innovative ways to drive cost savings and increased functionality.
Example:
The Australian Bureau of Statistics (ABS) is perhaps the most progressive of Government Agencies when it comes to open data and almost all of their data these days is made available under a Creative Commons licence, which allows free access to all. Not only that, but they also put together a lot of high-level demographic profiles that are easily accessible, but often overlooked.
In the ABS' QuickStats product every standard geography in the country has demographic summary tables and data made available, and they're all linked via a simple URL query string with unique IDs. This means that with a little finesse, you can actually set up links from GIS systems like MapInfo Professional and MapInfo Stratus to directly access this information – without having to deploy new applications.
You can view a simple demonstration of this example in action at https://stratus.pbondemand.com.au/connect/aus_demo/?mapcfg=Six-Traits. Simply click on any region to display a dialog box, and then click the hyperlink to access the linked content.
This example serves to show how easy it can be to harness open data sources for immediate benefit. The most important consideration, as always, is to understand the strengths and weaknesses of the dataset relative to its intended purpose.
About the Author: Simon Dell'Oro is Product Manager, Data & Analytics, Pitney Bowes Software APAC
Other blogs in this series: