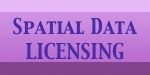 Recommendation #2 – Leverage from Data Providers for Customisation
Following my first recommendation to license data strategically, Recommendation #2 is about leveraging from your data providers to get exactly what you need and minimise your own work required once you receive the data. This is particularly important for datasets that have frequent updates and changing versions.
When selecting a spatial dataset, you should be asking yourself questions like:
Do I need to do any additional processing once I receive the data?

If so, do I need to incur that overhead myself, or can it be undertaken before it gets to me?

Is there a particular format required for the data that would make it easier to implement and work within our systems?

Or would multiple formats be beneficial for users who are working with different software?
Data is agnostic. There are a wide variety of GIS (Geographic Information System) standards and formats out there, and many organisations will use a combination of systems.
So if you have a requirement for data in any format from .TAB to .KML to .SHP to .GDB, or a projection system other than standards like GDA94 or WGS84, leveraging this from your data providers can save you both time and money. Particularly, if you're licensing specific tools for performing this work.
Examples:
Amcom, an IT and Telecommunications company, is just one example of an organisation who ensure that the multitude of datasets we provide them with are first converted to a customised FileGeodatabase format prior to it being delivered, which results in a reduced time to update their systems, as well as less overhead for them in doing so.
Transport for NSW is another example of a highly efficient GIS team. This agency of the NSW government is responsible for formulating and implementing transport policy across the State.
Because of the criticality of their systems – which are also used with other departments for emergency planning – accurate and up-to-date data is vital. Accordingly, they collate tens of thousands of changes to the road network each year that are required to be implemented in their spatial street network.
But rather than assume the overhead for managing these mass amount of changes themselves, Transport for NSW instead leverage from us to integrate them into the dataset before it is released every 6 months. For them, this serves three key benefits:
Their GIS resource overhead is reduced;
The time to update the data in their systems is sped up; and
Other agencies involved in critical emergency planning (police, fire, ambulance, etc.) benefit from the updates with each release of StreetPro data.
About the Author: Simon Dell'Oro is Product Manager, Data & Analytics, Pitney Bowes Software APAC
Other posts in this series: