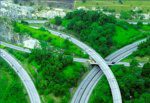 PLUS Expressways Group is the largest toll expressway operator in South East Asia, managing 973 km of expressways in Malaysia, including the North-South Expressway (NSE). The organisation began using GIS in the 1980s, completing a project to convert all engineering drawings to digital format and put them in the GIS in 1986. From the early days, the system was mostly used for maintenance, but over the years the system and data have been turned to more frequently for in-depth understanding of the road network.
For it's next generation system, the company implemented the Total Expressway Maintenance Management System (TEMAN), a data management and decision support tool utilizing GIS technology for the visualization of highway engineering assets. The Phase 1 Project was successfully completed and rolled out in September 2000.
Over the years, the company has added more advanced applications of geospatial technologies, purchasing regular aerial photographs and satellite imagery, and applying the system and data for planning, design, identification of slope, hydrographic studies, etc.
PLUS is now taking the next step with an enterprise vision, with plans to host geotagged 3D photos and videos of traffic junctions, rest areas and expressway intersections on the Web for the convenience of the users and for maintenance purposes. The organisation has incorporated a real time monitoring system for slope monitoring in areas prone to instability, creating a web-based interface that captures and displays current conditions.