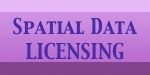 This story though, is not about the countless number of friend-finder or navigation apps available for download. It is about those who create the mapping foundations we enjoy today, and those who will build and extend the functionality even further. This story is about the world of spatial data – the fabric of digital mapping.
Behind every mapping application there is spatial data. This data needs to be current, complete and correct. If not, the integrity of the application will immediately be thrown into question. People need to be able to trust the map, to trust the underlying spatial data that makes the map.
Perhaps even more importantly, spatial data needs to be accessible; and this can present a problem when consumer expectations for paying for digital maps have decreased almost inversely with the explosion of content and apps we have available today.
This means that in today's environment, the way in which we select and license spatial data for our applications requires careful consideration. In this short blog series, I will provide three recommendations for how anyone building mapping applications can be most efficient when it comes to selecting, licensing and accessing spatial data.
Recommendation #1 – License Data Strategically
The cost for licensing spatial data is largely dependent on three key factors:
The number of people working with the data or servers/applications it is deployed to;
The duration of license; and
Whether the content is for internal use or public-facing.
By recognising both the demand for data and its intended usage from the beginning, you can select a license that is most cost effective for both your immediate and future needs.
Seems pretty obvious, huh? Not always…
Problem: In a larger organisation, it can be easy for multiple teams and departments to be purchasing software and data independently of each other without coordination. This typically results in higher outgoing costs and even doubling-up in purchasing similar or equivalent datasets.
Solution: Salmat Digital is one organisation who is overcoming this by implementing a centralised licensing strategy which will allow them to consolidate the needs of numerous departments into one, singular model for the entire enterprise.
By combining all of their needs into a uniform approach, they will not only reduce their per-user costs, but also scale themselves for future use without any additional overhead expenditure.
An added advantage of this approach is that it solves another problem many face, which is "how much will an additional project or license cost me?"
Problem: What if you only require data for a short period of time? This was the case with Swan Transit, a public transport provider in Australia who won a contract to provide bus services in the western Sydney Metro area. In order to map their new routes in a consistent fashion with the State Transport department, they required a short-term license of the same navigational roads dataset.
Solution: The solution was simple for Swan Transit. Rather than license an annual subscription they instead selected a license that matched the duration of the project – in this case, just four months.
About the Author: Simon Dell'Oro is Product Manager, Data & Analytics, Pitney Bowes Software APAC
Other posts in this series: