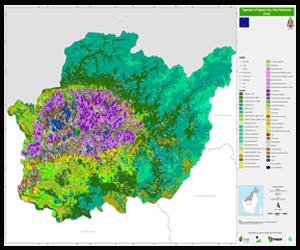 The goal is to develop rural space plans that are more equitable and participatory, with financial instruments that help locals. The public policy reform aims for environmental protection and better resource management. The financial compensation is tied to payment for environmental services and such approaches as Reducing Environmental Deforestation and Degredation (REDD).
The project works at the district scale for planning, but also at the village level in order to engage local communities. In the past the mediation for land use allocation for resource exploitation has often cut out locals due to weak land tenure laws. With this new approach, local communities become involved to avoid environmental degredation, strengthen land tenue, and integrate stakeholder views.
Policymakers are realizing that mining, agriculture and oil palm plantations are increasingly inevitable as the pace of economic growth in the country increases. The participatory approach has been embraced by decision makers in West Kalimantan as a means to make the most of this growth, with a shared vision, rather than exploitation.
Inclusive spatial planning answers questions about how much land is needed for nature conservation, agricultural development, forestry and mining. With stakeholder consensus, through workshops and other stakeholder engagement, the public understands the need for a broad vision and a consensus focus so that they achieve their desired future.
Project staff have created two regency-wide spatial databases with six map layers that are at a 1:50,000 scale. The data includes environmental data and land use recommendations. Livelihood data is added to understand how locals make their living. There are 40 people from various NGOs involved in collecting this data and assisting with land use planning.
The planning aims to take a new approach, rather than a top-down government approach that bypasses local input or benefit. Through the process, a common vision is achieved along with land-use maps that are detailed to drive policy and resolve such issues as boundary disputes, land ownership and access to forest resources. The access and sharing of information is key to the ongoing success.