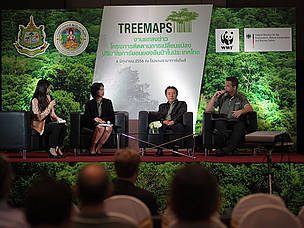 Presiding over the launch ceremony at the Rama Gardens Hotel were Mr. Chote Trachu, Permanent Secretary of the Ministry of Natural Resources and Environment which oversees all of Thailand's conservation agencies, Dr. Ingo Winkelmann, Minister and Deputy Head of Mission of the German Embassy in Bangkok who represented the project's major donor – the German government, and Mr. Petch Manopawit, Manager of WWF's Conservation programme in Thailand.
TREEMAPS' overriding objective is for Thailand to develop the capacity at the national level – and, in one region, at the sub-national level – to measure and monitor change in forest carbon and to take advantage of the full range of emerging forest carbon financing and benefit opportunities. Data will be collected from three sources: satellite imagery, on-the-ground surveys and through the use of groundbreaking LiDAR technology.
"WWF is introducing cutting-edge LiDAR technology to help Thailand survey carbon levels in forests to establish its first carbon basemap with accurate data on carbon inventory and a reliable system of monitoring carbon level in forests," said Mr. Justin Foster, Project Director of TREEMAPS with WWF-Thailand.
LiDAR, which stands for Light Detection and Ranging, utilizes a highly sensitive airborne sensor that bounces laser beams off foliage in forests and ground below to measure ground topography, forest height and structure at the highest precision available today. LiDAR will be the key technology employed in developing Thailand's first forest carbon basemap. LiDAR scanners will be fitted to aircraft conducting aerial surveys. The aerial surveys will collect data that will subsequently be processed to produce 3D (three dimensional) images of the surveyed forest. The data collected will provide highly accurate information, which will form the basis of a forest carbon basemap. The creation of the forest carbon basemap will allow for ongoing monitoring of changes in Thailand's forests. Thailand is the first country in Southeast Asia to adopt and employ LiDAR technology for forest conservation through this WWF initiative.
According to Dr. Songtham Suksawang, Director of the National Park Research Division, and an expert in forest and wildlife conservation, the TREEMAPS project does not solely focus on the collection of scientific data but attracts involvement of local stakeholders such as forest dependent communities in how the project is run. "Promoting the involvement of people to actively plant trees supports the creation of a carbon credit market," said Dr. Songtham. "At the same time, other environmental services such as water resources management, tourism, wildlife conservation are also included in the project's mission statement and this mutually benefits all aspects of conservation work simultaneously."
The TREEMAPS project will initiate a pilot initiative in the Dong Phayayen Khao Yai (DPKY) Forest Complex in the northeast of Thailand. The area, which includes several national parks, is a UNESCO World Heritage Site and host to globally important forest ecosystems and more than 800 species, including tigers, elephants and gibbons. But the forest area has suffered severe impacts from deforestation and encroachment. Over the past 20 years, Thailand lost 577,000 hectares of forest, at an average rate of 0.15% per year. Estimates of forest degradation are currently not available
Prior to the TREEMAPS project, the available approaches for measuring forest carbon in Thailand were not capable of delivery the level of accuracy required by REDD+ or private sector voluntary carbon markets. REDD+ (Reducing Emissions from Deforestation and forest Degradation in Developing Countries) is an initiative of the United Nations (UN) to reduce emissions from deforestation and forest degradation, promote conservation and sustainable management of forests and enhancement of forest carbon stocks. TREEMAPS provides an opportunity for Thailand to receive funding support through REDD+ and various other payment for ecosystem services (PES). However, in order to benefit from the REDD+ programme and receive funding from these mechanism, Thailand must first establish a system to measure and monitor changes in forest carbon levels, that meets the highest level of accuracy (tier 3) of the Intergovernmental Panel on Climate Change (IPCC).
TREEMAPS hopes to play a key role in conserving forests for Thai people to receive the full benefits of REDD+ initiatives, exchange knowledge, skills, experiences and lessons learned with other countries and regions. Additionally, various co-benefits and environmental services will be experienced, such as climate change mitigation as well as the creation of new opportunities for Thai people to maximize benefits from managing forests sustainably.
WWF's TREEMAPS project has received financial support from the Germany's Federal Ministry for the Environment, Nature Conservation and Nuclear Safety (BMU) under the its International Climate Initiative (ICI) framework.