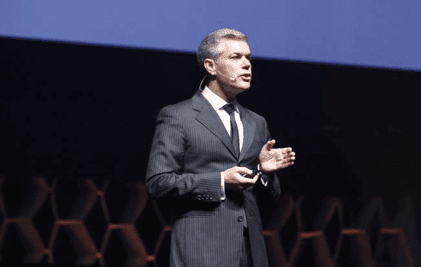 Ola Rollén, president and CEO of Hexagon, addressed the press in a media luncheon, mentioning their bullish position on Asia that is driving 48% of their bottom line. Asia is the fastest growing area for their technology and solutions, and they are working on providing solutions in China and India that will soon lead to broader product offerings.
Much in the way that they developed the H2O water solution that debuted last year, the solutions that are under development combine technologies across brands and divisions. Rollén mentioned that they are able to do this as the big brand Hexagon for these big projects, versus presenting their individual brands and selling against each other.
There are several solutions initiatives underway that are being called Smart, such as Smart Resources, Smart Safety, Smart Agriculture, and Smart Plant. The thing that makes these solutions smart and innovative is that they combine sensors to know how the system behaves, they understand change through analysis, and they shorten the time it takes to get information to solve a specific problem.
In addition to the solutions presented, Leica Geosystems made many hardware announcements at the event, including a new total station that also does laser scanning, and their own mobile mapping solution that provides great flexibility.
The Pegasus: One mobile mapping solution combines technologies that are within the Hexagon family, such as an IMU and processing software from Novatel, scanners from Leica, and imaging software from Geosoft (a recent acquisition). The system can be packed into two boxes and shipped and integrated with a rental car that has a roof rack, and the IMU used doesn't have any export restrictions. It captures imagery from six cameras, and is able to return an accurate image to measure and monitor event without the scanner, thanks to photogrammetry tools. The aim in developing the system was to focus on portability and easy workflows in order to take out complexity and cost from the solution.
Leica's new Nova MS 50 scanner integrates 3D point cloud measurements into the regular surveying workflow. It uses wave form calculations for their distance meter, which greatly speeds this calculation. There are two cameras, one an overview and the other a telescope that is integrated with the lens of the total station to remove parallax, and there is continuous auto focus of the camera. The long-range scanner can collect 1,000 points per second that are already georeferenced thanks to the total station position. There's also a TM50 version of this device for constant operation for monitoring applications. New Infinity software replaces the Geo Office software to speed the processing and visualization of the data captured.
Also present on the show floor were two partner drone manufacturers. Swiss Drones has a large helicopter platform that can fly for four hours integrating a multispectral Leica RCD30 camera for use in traditional mapping applications. There were also lightweight UAVs from Aibotix for inspection and mapping.
Overall, the HxGN LIVE event reinforced the reasons that Hexagon's stock has been performing very well. They are executing solutions that solve critical business problems, returning value for customers even in this down economy, and their global reach provides a means to capitalize on areas of the world with the strongest opportunities.