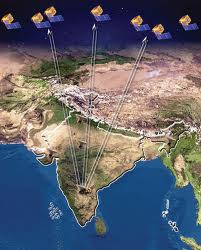 The new navigation centre was inaugurated this week at the Deep Space Network (DSN) complex of ISRO that is located in Byalalu. The center has been set up to receive the signals from the first navigation satellite (IRNSS-IA) that is scheduled to launch on June 12 from the Sriharikota spaceport on the Bay of Bengal. The remaining six satellites are set for completion by 2015, with a new launch every six months.
The navigation centre will coordinate and monitor ground facilities and ranging stations throughout the country. A network of 21 ranging stations have been set up to distribute data and precisely measure the orbit of the satelites.
"Key to the global positioning system (GPS)-based navigation support is the time reference to which all ground-based systems and satellite clocks are synchronised. The time reference is generated by the high precision timing facility at the navigation centre, which is equipped with high stability, high precision atomic clocks," said ISRO chairman K. Radhakrishnan at the inauguration.
IRNSS will have both civilian and restricted service, which is encrypted for military and security users. The justification for the $290 million USD system has been the Indian control of the system, given that GPS or other GNSS systems are not guaranteed.
Learn more about the first IRNSS satellite here.