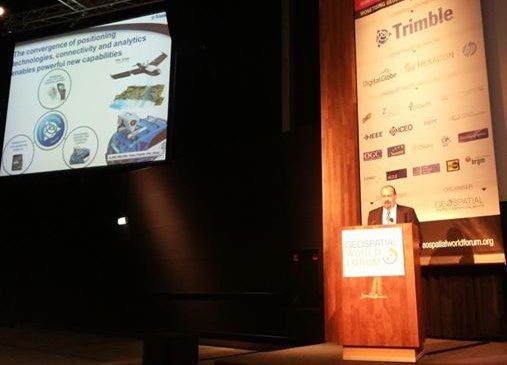 Combining digital map data with other data, such as personal navigation, is something we all now use in our everyday lives. As Large sees it, as we move forward there will be greater realism through virtual realities, but also more information flow. Geospatial information is increasingly becoming a conversation and a flow.
Geospatial data, our computational ability, and connectivity come together to allow us to do things we couldn't do before. A convergence with sensors and positioning technologies coming together into a single solution, such as mobile mapping, where we can create 6 billion points in an hour. Unmanned aerial systems are a convergence with automated aerial mapping returning knowledge.
With the infrastructure to precisely position locations on the Earth, we have ubiquitous high precision active control networks. Using the convergence of technology, we can take a global tracking network and feed data from any part over the world. In our lifetimes, we will position our cars to a higher accuracy, staying within the lanes, and automating driving.
Geospatial information workflows are happening across many business processes. In the agriculture space, you can drive a harvester in the dark and measure where yields are better and store that information to improve the process next year. In the energy generation, transmission and distribution industry, automation is happening to automate construction of network and to maintain the system.
New geospatial frontiers are very much about convergence.
3D and 4D mapping, particularly in indoor environments
intelligent transportation that are autonomous, knowing where they are on the road
crowdsourcing, sensors, UAVs — billions of people providing information
Underground mapping
At least half of the global economy of $70 trillion is impacted by geospatial technology. The geospatial technology industry provides benefits to daily quality of life, safety and science. These converging technologies are improving our understanding of geotechnical details in a holistic and global manner.
In closing Large returned to paper maps, and how they started out as specialist tools, and became essential to so much human activity. The convergence of the data, with connectivity and analytics, will drive the ubiquity of geospatial solutions to whole new levels.