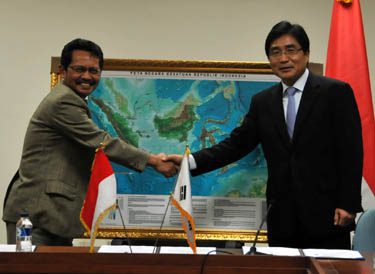 On Friday, May 10, 2013 Badan Informasi Geospatial (BIG), Bappenas and South Korea (KOICA) signed a cooperation agreement to develop basic infrastructure for spatial development of the area north coast of the island of Java. This form of cooperation will be realized in the manufacture of 1:5,000 scale topographic map. The project site covers most of the northern coast of Java Island, Indonesia. The area to be mapped is ​​750 km2. Acquisition of baseline data through aerial photography or similar technology will be made in 3 strips on the corridor between 1.5 to 2 miles for every strip, along the coast between Jakarta to Semarang. Korea in this project will use sophisticated competitive technology, such as GIS and IT. This joint project will begin in 2013 and be completed by 2015.
Cooperation will also increase the human resource capacity of Indonesia to produce topographic maps by sharing knowledge and technology. KOICA has previously made a basic database system and climate change coastal areas, through the project "Coastal Protection and Management Policy Addressing Climate Change Impacts".
Geospatial information resulting from this collaboration will be important data for the development of national infrastructure. The resulting data is expected to be useful to improve economic growth and social development in accordance with national development priorities, such as land use, roads, housing, and flood control.
This collaboration is also expected to help achieve the program MP3EI (Master Plan for the Acceleration and Expansion of Indonesian Economic Development). Corridor economic development of Java, including Jakarta, Semarang and Surabaya, which is the most important part of economic development in Indonesia. Java north coast region is an area that is very important because it has a variety of industrial infrastructure and high population density which is the economic development potential. The resulting data will be needed to build coastal infrastructure management and protect this area from coastal disasters.