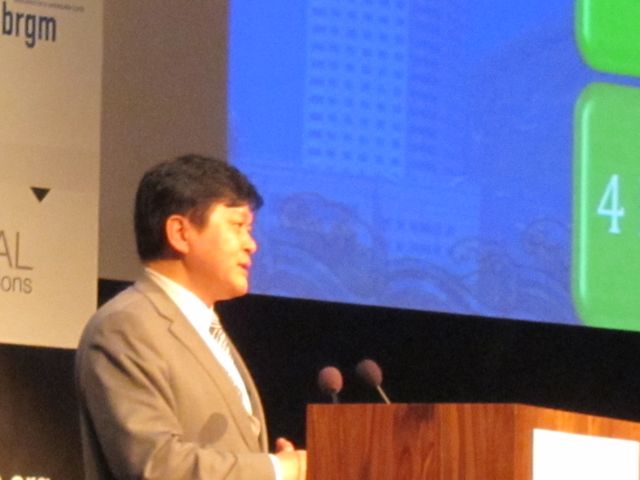 A new premier, cabinet and ministers will be elected in 2013, with a focus on new economic development that addresses the "informatization" of industrialization, urbanization and agricultural modernization. Government reforms are also focused on making the government more services oriented, with lower pollution, and steady growth.
The geospatial strategy is focused on becoming the leading country for geospatial technology. This effort includes the Smart China/Digital China effort that has seen the completion of 130 Digital City/Smart City models, with greater than 300 more planned. With geospatial monitoring of ecology and the environment, sensors are being distributed to provide for dynamic modeling.
MapWorld, the country's mapping portal, provides the central hub for data distribution. The site contains global land coverage at 30 meters, and this resolution will continue to improve. There will be an English language version at the end of the year.
The geospatial industry in China has 23,000 companies doing business with geospatial information, including web map services, survey devices, and remote sensing. This sector accounts for 150 Billion Yen each year, with annual growth of 25%, and 10 geospatial enterprises listed on the stock market. China continues to invest in geospatial industrial parks, with several under construction, including one in the capital airport in Beijing.
A new law of geomatics is now in place to centralize the administration of the licensing of surveyors, quality supervision and control, standardization, and GEOID and regional CORS network administration. The GNSS satellite network known as Compass will cover the world by 2020. A series of mapping satellites and airborne monitoring sensors are in the works at 2M resolution, 1M resolution, 1/2 M Resolution, with an Airborne InSar System, UAV Photography, and mobile mapping systems.
Pengde said that future work will focus on more spatial analysis, better information sharing, easier knowledge mining, dynamic mapping, and better global data sharing.