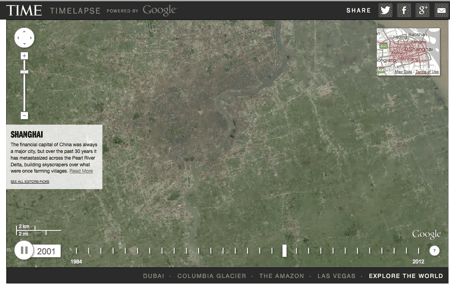 The Landsat satellites have been observing Earth from sapce since the 1970s, with images archived and made available free online recently. Google has been working with the USGS since 2009, and has applied their Google Earth Engine technology to the archive to compile an enormous archive. The project looked at 909 terabytes of data, 2,068,467 images, and found the highest quality pixels without clouds since 1984.
Google teamed with Carnegie Mellon University and their CREATE Lab to convert the Earth images into HTML5 animations that can be seamlessly browsed and explored. There are animations of eight different areas of the world, with the ability to zoom in and explore the changes in more detail.
Among these animated views of dramatic change is the city of Shanghai, China that has seen dramatic change in the past thirty years. While it has always been a major city, as the financial center of China, it has increased dramatically in size and population recently. In 1990 the population was 13.3 million, and reached 23 million in 2010. The city has also expanded broadly in size, expanding broadly in all directions.
The urban explosion is just one of the areas that this time-lapse imagery allows users to explore. In addition to Shanghai, there are dramatic transformation of Las Vegas, Nevada and Dubai, United Arab Emirates that have each experienced dramatic outward growth and population change.
In addition to the urban explorations, this series also takes a look at environmental impacts. From shrinking glaciers to coal and oil exploration, the changes that humans have on the planet is well documented in this series.
Google's seamless timelapse veiwer frees this imagery from static views to dynamic explorations of dramatic global change. This series provides a global service, to make us all aware of the power of satellite monitoring and change exploration to help reduce human impacts and to adapt to global change.