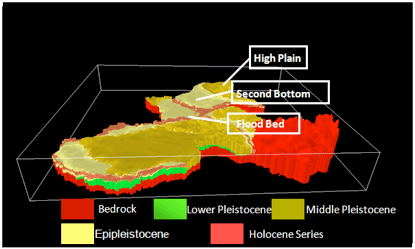 3D geological mapping is a major innovation of geological survey work. It has broken the limitation that geological data can only be used to generate traditional 2D maps. MapGIS 3D Geological Mapping Tool is professional software that serves to improve geological mapping and visualization. It contains complete 3D geological mapping oriented modeling process with integrated data management, 2D mapping and 3D modeling, which allows for the digitization and visualization of complex geological information.
Liu Xiuguo, professor of China University of Geosciences (Wuhan) made an introductory presentation regarding "3D Geological Mapping Techniques" at the International Workshop on 3D Geological Mapping Techniques which was sponsored by China Geological Survey in November 2011. Stephen John Mathers, director of Digital Geological Spatial Model project of British Geological Survey (BGS), Dr.Linda June Jacobsen, director of Five-year Plan of Underground 3D Geological Framework of Geological Mapping of United States Geological Survey (USGS), Yves Michaud, director of geological mappingof Geological Survey of Canada (GSC) Quebec and Kai Yang, member of 3D Mineral Mapping project of Australia Commonwealth Scientific and Industrial Research Organization (CSIRO) attended the seminar and made suggestions regarding the future development of MapGIS 3D geological mapping software. The product was the result of the research-education-innovation model of Zondy Cyber Group.
MapGIS 3D Geological Mapping tool adopts the following multiple methods to achieve 3D geo-modeling functions:
For simple stratigraphy region, the tool uses multi-source data such as borehole, section and contour to construct all stratum surfaces on the basis of stratigraphic sequence, and then builds the whole area stratum entity model by overlapping the order.
For complex stratigraphy, the tool adopts "subarea-splice" modeling. First the region is spliced according to the cross section to generate multiple grids, then the boundary in each grid is enclosed to build stratum surface, and to generate geological blocks separately by using topological relation. Finally, all blocks are combined together to generate the regional 3D model.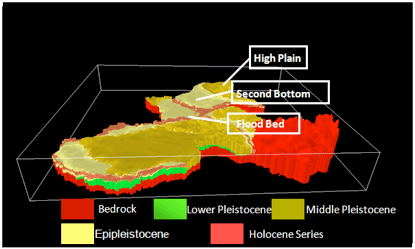 For some specific regions, the tool adopts a man-machine interactive modeling method in each independent small unit of the fine model, which integrates the geological knowledge of professionals with the modeling process. The final geological models of all units are combined as a whole.
After the geological model is built, analysis can be conducted. Analysis of the model has been helpful for both urban geology and digital mining projects. This tool achieves a multi-veiwpoint and real-time dynamic analysis of complex models. With the 3D entity modeling and simulation of evolution, the tool has greatly improved the geological modeling process.
The simplified exploration of geological models provides researchers and technicians a greater opportunity to explore and add knowledge about the world.
Authors: Fang Da and Chen Xiaojin are with Zondy Cyber Consultants, and can be contacted via e-mail: ib at mapgis.com.