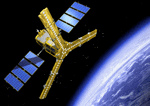 In a report in China Daily, Miao Qianjun, secretary-general of the Global Navigation Satellite System and Location-based Service Association of China said, "these companies are expected to offer products and services worth some 10 billion yuan (US$1.6 billion) by 2017. Many excellent Beidou products, with imaginative functions and design, will emerge.
The industrial park is being built by the Global Navigation Satellite System and Location-Based Service Association of China in association with Tianjin's Wuqing district government. Officials spoke to hope that the technology park would become China's Silicon Valley. There are plans for a portion of the park to be devoted to foregn companies and institutes to help spur technology development.
Among some of the applications discussed was support of Beijing's taxi and transportation systems in order to help reduce air pollution. The Beidou market has already has received a boost in transportation, with the central government requiring its use in major transporation networks.
To date, the Beidou network consists of 16 satellites, with a focus on Asia-Pacific and China. By 2020, the network will expand to 30 satellites, and a global service.
Sources: China Daily, BeiDou, ZDNet