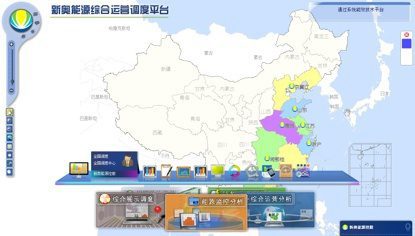 Early in 2000, ENN Energy introduced GIS and created a GIS pipeline network management system, with integrated SCADA remote control and telemetry system, as well as a GPS inspection system. However, as ENN Energy continued to extend the use of GIS within its business, it became increasingly difficult for it to meet all the business and customer requirements. ENN Energy decided to take an enterprise approach, with an information and command center, in order to realize better information sharing and management.
"Previously, we had isolated islands of information in GIS, SCADA and inspection systems," said Jian Jie, deputy chief engineer of ENN Energy. "When we were confronted with gas shortages or other severe emergencies, the failure to communicate among these system caused problems. Thean enterprise-level dispatching system has become indispensable for ENN Energy, because it breaks through information sharing obstacles and allows us to better utilize shared information within the corporation."
Interface of ENN ENERGY Integrated Operation and Dispatching System
Enterprise Solution
In 2011, ENN Energy established its own national dispatching center, with a simplified work procedure and integrated systems, to improve information sharing. ENN Energy realized that the bulk of their business is location-based, and decided to build a comprehensive operation and dispatching platform with GIS at its core.
ENN Energy contracted with Zondy Cyber consultants, who took four steps of enterprise-level GIS application from network database creation, network data application, enterprise-level data integration with GIS as the core, and enterprise information integration on the basis of a comprehensive dispatching platform.
Following the four-step strategy, ENN Energy started to build its operation and dispatching system. Zondy Cyber Group established a MapGIS project team to conduct demand analysis. The ENN Energy data center and dispatching system integrates information resources from GIS, SCADA, inspection system and other business systems. The dispatching platform contributes to the effective enterprise management and unifies internal information resource dispatching.
State-of-the-Art Technology
MapGIS IGSS has been adopted for this application to support virtual, large-scale hardware infrastructure and distributed and efficient service sharing. The system is cross-platform and highly scalable, facilitating the integration with enterprise systems such as ERP, CRM, OA, BI, etc.
"Compared with advanced countries, China still lags behind in economic development, enterprise management, corporation scale, and cutting-edge technology," said Xu Jinbiao, vice president of ENN Energy. "In terms of enterprise systems, we have had IBM for organizational consulting, but what we really needed was a partner who has a good knowledge of ENN Energy's business operation."
The new enterprise system creates a central geographic information data repository where services can be created to meet any enterprise need.
Authors: Fang Da and Chen Xiaojin are with Zondy Cyber Consultants, and can be contacted via e-mail: ib at mapgis.com.