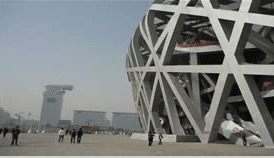 As a focal point for the event, ten works by leading architects from around the world will be presented to the public, including those by Zaha Hadid and Herzong, the designers of the Bird Nest. ABB2013 will have three showcases, including a themed exhibition, a public art exhibition and the works of young architects and students. There wil alsol be a design competition during the biennial.
"We are trying to have the public enjoy creativity of the design. It is our wish that they can interact with the architecture we present," Luo Li, secretary general of the Organizing Committee of CIAB, said at a press conference in Beijing on Tuesday.
The increasing capability to create conversations between designers and the public, meets with the goals of this event. There are plans for greater outreach to meet and improve the lifestyles of citizens. To that end, an emphasis is being made on nightlife, to improve social interaction and enjoyment in cities after the workday is done.
Learn more about the 5th China International Biennial in Beijing here.