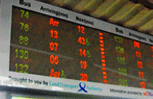 The Land Transport GIS Hub is used by transport planners to create master plans, to model the network, and to project demand both for medium and long-term timeframes. The system pulls together public transport data, patterns of connectivity, and demographics to model commuter behavior. All modes of transport are modeled, including cars, bus and rail transit. Together, the system allows for optimal location-based scenario planning, with spatial analyis providing a strategic edge to meet current and future demands.
Other departments that make heavy use of the system include:
• Road safety engineers looking at collision patterns and accident-prone areas to improve road safety
• Road maintenance teams to forecast road surface deterioration
• Road construction crews to plan and monitor progress
LTA reaches out to commuters with digital maps delivered through a MyTransport.SG portal and smartphone app, providing details to motorists about road incidents, current travel speeds and routes, and the availability of parking spaces. The Snap&Send@MyTransport.SG is a smartphone app that harnesses the power of the crowds to take photos of potholes and roadway defects so that maintenance crews can prioritize their work.
The system also provides open data sharing to key stakeholders through their DataMall@MyTransport.SG, providing more than 80 datasets for download without cost, to spur innovative uses of the data. To date, more than 200 companies have subscribed to the transport data, with many applications developed and available to the public, including a much-used bus arrival application. There are even lifestyle applications like WhereTo.Go and xPlorer to mesh travel and lifestyle information.
This GIS-based system is clearly at the forefront of making the most of geospatial capabilities and data sharing for both better governance and citizen awareness. It has been recognized internationally, garnering a best practice award from the International Transport Forum Awards.