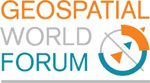 The Geospatial World Forum took place this week in Hyderabad, India. This is the third bi-annual event in a series, although the word mapping has been replaced with the word geospatial for this year's installment. The conference drew a high-level international audience, with CEO-level participation from many geospatial organizations, representation from world mapping agencies, high-level participation from the Indian government and attendees from throughout the Asian region.
The theme for this year's event was Dimensions and Directions of Geospatial Industry, with tracks that addressed many of the issues facing the world, and in particular the developing world. Focus areas included climate change implications, spatial data infrastructure, environmental management, agriculture, urban planning and development, coastal zone management, disaster management, natural resources and geospatial design and engineering for infrastructure. There were also a number of technology focus areas including surveying and cartography, earth observation, 3D modeling, open source software, and Web GIS.
The event's location within India places a focus on one of the hot points of geospatial technology application and development. There is a high level of government support for the geospatial technology sector within India, and the event drew on government support and participation. The level of support is manifest by the participation and evangelism of Kapil Sibal, minister for Communications and Information Technologies, Earth Sciences, and Human Resource Development, with a past stint as minister of Science & Technology. Sibal said that it's an accident of history that he is the minister of all three organizations, and here at the event, because geospatial technology drives convergence of all three areas that he administers and is very important for further development of the country.
The event was both a display of the current global status of geospatial technology, a showcase for applications, and an opportunity to lay out the future, forging new alliances and coming together on common pain points. This year's event was preceded by a focused international gathering of mapmaking agencies, there is a significant trade mission from Canada with twenty companies working to forge relationships with the Indian counterparts. There is a concerted effort to address issues of data sharing and interoperability within India, with much discussion about changes in government policy to open up the sharing and reuse of geospatial data within the country, which is currently under heavy regulation due to security concerns.
Sibal asserted that 70 to 80% of data should be in public domain, taking into some consideration the issue of security, but not closing the information behind walls. There is growing movement for a national geospatial data policy that licenses users, empowering the industry, and providing a national body to administer data quality and provide for security.
Streaming video is available for viewing Plenary session speakers online via the Geospatial World website.