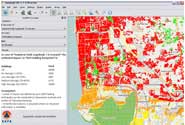 The InaSAFE name comes from Indonesia Scenario Assessment for Emergencies, and is used to model realistic natural hazard impact scenarios. The free and open software is used both for preparedness and respnse as well as risk reduction and recovery. The tool is useful for gauging the impacts of floods, earthquakes and tsunamis, and helps governments make evacuation plans and other preparations.
InaSAFE is a plugin for the open source GIS application Quantum GIS that pulls in data from several sources, including the science community, the federal government, local communities, and even citizens. While InaSAFE does not model hazards, it presents the work of experts for communities and the public to provide more realistic and useful scenarios.
As an open source project, the latest source code is made available via Github (https://github.com/AIFDR/inasafe), with modules for risk calculations, gis functionality and functions for impact modelling.
InaSAFE is already having an impact to help villages, towns and cities become more resilient to natural disasters. While Indonesia originated the project, since it is open source, it has the potential to have an impact around the world, particularly in the developing world and along vulnerable coastlines.
Visit the InaSAFE online tool here.
Sources: Wired Magazine, GFDRR