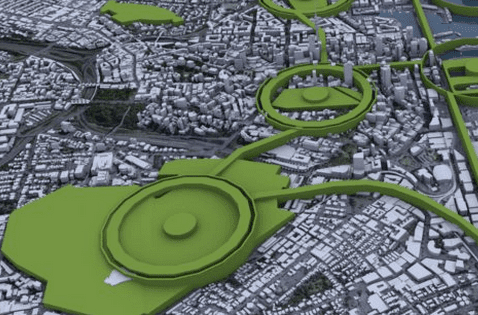 The Virtual Australia and New Zealand (VANZ) effort aims for an interoperable model to be used across both countries using any software and portal technology of choice. The intent is for the model to be used in all 'property-related' activities from planning, design, engineering, costing, construction, financing, facility-management, insurance, valuation, sale and decommissioning. With intended details of internal spaces and structural elements at engineering scale, this framework would be world-leading in scale and detail.

The project now has the backing of key Australian and NZ Government Departments and a wide cross-section of professional organizations operating across the property sector. The vision is something many have shared for some time, and yet the timing seems right because we now collectively have the spatial and building modeling software, data collection, storage and communication technologies to achieve it.

The benefits have been estimated at $5 Billion in productivity savings during design and construction as well as billions more for facility management and maintenance through the lifecycle of buildings. The model would also be of great benefit for emergency services, real estate and government valuation and services.
One of the major challenges is that, for property-related purposes, there is the need to know not only the physical attributes of each property, but also the legal entitlements applying to it. The question is: "of all possible data sets that may be created to model a specific property – which is the 'authorized' set to which the legal entitlements apply?" The proposed solution is development of a network of Dats Banks charged with holding the individual property data 'in perpetuity' – like traditional banks hold our money.
Other challenges revolves around the secure storage and integration of the data sets across such a wide community. The data must be maintained over the lifetime of each structure that the data models, as well as historical data, scenarios and plans – as the property changes, as interests in it change, and as software and hardware and data formats change and/or cease to be supported.
The vision has been ongoing for the past few years, and has been refined through a series of projects. The Conference to be held in Sydney from May 13-14 will set the tone for driving the vision to reality.
More detail is available on vanzi.com.au.